Elements of a Song
by Conrad Albrecht
Elements of a Song - Melody, Chords, Lyrics
When you hear a song, there are usually several instruments playing several notes at once. How do you understand this mess? We can break it down into three elements:
Melody. The notes the singer is singing.
Chords. Chords are a "shorthand" for all the notes all the instruments are playing.
Lyrics. The words the singer is singing.
If you create a melody, a chord progression (a series of chords), and lyrics that all go together, you have a song! In ChordSong it looks like this: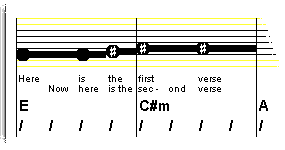 Melody, Chords, Lyrics - Which Comes First?
An experienced composer can start with any one of these elements first, and then add the others. But to begin, I suggest you start this way:
Chords first. Why? Because chords are the most "technical" or "mysterious" of the three elements. So it's easier to play with chords all by themselves, find a chord progression you like, and then add a melody to it.
Once you have some chords, here are a couple of ways to add a melody:
Let ChordSong play the chords over and over, and try humming (or singing) something along with them.
Create the melody with your mouse on the ChordSong melody staff. ChordSong even shows you notes which work with your chords!
Note: A pop song can easily be 100-200 measures long. You probably don't want to make up just the chords for a whole song first, without any melody. Try making up a few measures of chords, then add a melody to those measures, then add a few more measures of chords, then some more melody, and so on.
---