« Click
to run/download
DrawMusic Suite Setup
(SetupDrawMusic.exe).
ChordSong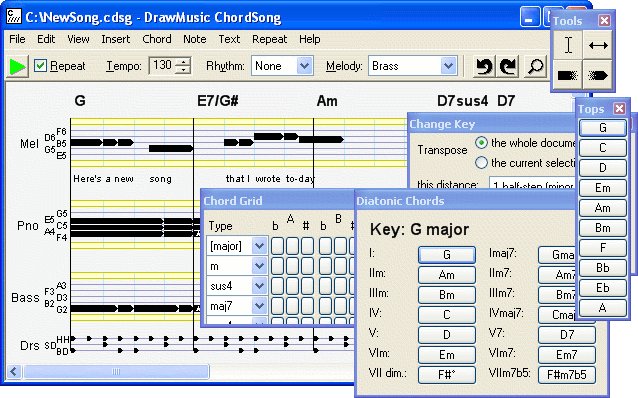 Create your own music.
"ChordSong helped me write 4 of the songs on my upcoming record" - Bill Curd of
Chime
"It's like having a coach/teacher guiding the user" - HDMT, ChordSong user
"I have looked at quite a few compositon programs...the way you introduce music theory, without getting one tied in knots, is outstanding." - Paul B., New Zealand
ChordSong
lets you
instantly start creating
chords, melodies, lyrics, instrument parts.
ChordSong shows you "good chords" and "good notes", so
it's never been so easy
to get started. Without an instrument. And whether or not you have any music background.
And when you're ready for
more musical ideas
, explore our free
How to Write Music
tutorials.
A Few ChordSong Features:
Chord buttons let you hear a chord first, then add it to your song with one click
Plays your songs with automatic accompaniment, or create your own instrument parts
Transpose to different keys
Export songs as standard MIDI files or image (GIF) files
For full details on ChordSong's features, see
ChordSong Help
.
To download ChordSong
, click the
Install DrawMusic Suite
button
at the top of this page
!
---